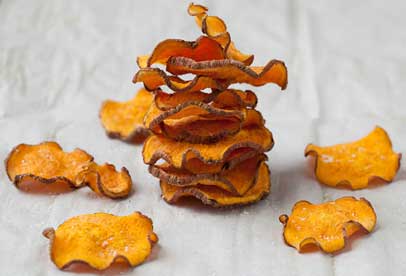 4 Foolproof Tips to Make Healthy Veggie Chips at Home
We′ve all been there: caught with our hand at the bottom of a chip bag that is somehow now empty. We promised ourselves just a few, but what happened?
It can be easy to go overboard when it comes to snacking, particularly when crunchy, salty chips are involved. While there is no need to deprive yourself of life′s simple pleasures (we′re looking at you, potato chips), why not try a healthier version? Make your own chips right in your oven using vegetables like beets, Brussels sprouts, kale and sweet potatoes. You′ll cut calories while enjoying the satisfying crunch we all love, without the greasy mess of a deep-fat fryer. And if you have kids, this is a genius way to get them to eat their veggies?no negotiating necessary. Here′s the only recipe you′ll need to make delicious veggie chips at home.
1. Choose Your Veggie Kale, Brussels sprouts, potatoes and beets are all great choices to turn into chips because not only are they nutritious, they also hold up well in the oven and get super-crunchy.
2. Slice Them Thin You′ll want to make sure you slice root vegetables, such as beets and potatoes, into very thin slices to get super-crispy. Try using a mandoline to achieve those nice, thin cuts. For leafy vegetables, such as Brussels sprouts and kale, make sure to separate out the leaves into a single layer for that perfect crunch.
3. Add Seasoning Feel free to go simple with just a drizzle of olive oil and some salt and pepper. Or jazz it up with a sprinkle of Parmesan, a shake of garlic powder or even some spice with chile powder or smoked paprika.
4. Get Them Crunchy Bake time and temperature will vary depending on the vegetable you choose, but the goal is to get an even crunch. Do this by baking low and slow?a few hours at a low temperature.