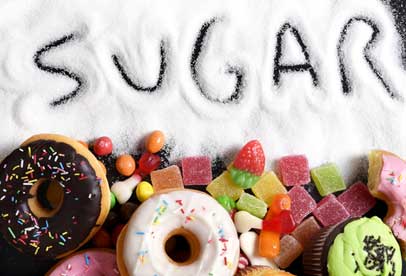 Carbohydrates and sugars
Our bodies need carbohydrates for energy. Choose healthier carbohydrates and limit foods high in added sugars. Many people think of rice, potatoes and pasta as 'carbs' but that's only a few of the huge range of foods that contain carbohydrates. Carbohydrates are in all fruit and vegetables, all breads and grain products, and sugar and sugary foods.
Sugar is a type of carbohydrate. You may see it called different names - like fructose, lactose, sucrose, glucose, high fructose corn syrup, maltose, dextrose, raw sugar, cane sugar, malt extract and molasses. Sugar in food and drinks can be naturally occurring, like in fruit and dairy products. It can also be added during processing. Most 'added' sugar in the Australian diet comes from foods like cakes, biscuits, pastries and sugary drinks. Some healthy foods contain added sugars for flavour or helping preserve the product or hold its shape (e.g. flavoured yoghurt and some breakfast cereals).
The National Health and Medical Research Council (NHMRC) recently reviewed all available evidence to update the Australian Dietary Guidelines and concluded that sugar as an individual nutrient was important in relation to dental caries, and sugary drinks can increase the risk of weight gain in adults and children.
There's no scientific consensus that sugar as a nutrient causes heart disease. But too much of anything, like sugar, can increase the amount of energy (kilojoules) you eat which can increase the risk of weight gain. And being overweight or obese can increase your risk of heart disease.
What to choose
Choose the healthier carbohydrates like fresh fruit and vegetables, wholegrain breads, wholegrain cereals and pastas. They're all part of a healthy eating pattern.
Limit foods high in added sugars like cakes, confectionary, biscuits and sugary drinks. These foods should only be eaten sometimes and in small amounts.
Consider the overall nutrition a food offers. If you looked only at the sugar levels, you'd choose a diet soft drink over milk - but you'd miss out on much needed calcium as well as protein, vitamins D and A. And some grain foods offer carbohydrates, but also have a lot of added saturated fat, and added salt, and not much fibre, vitamins or minerals (like cakes, muffins, pies, pastries and biscuits).