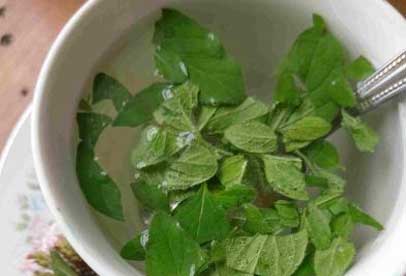 Combat the Cold with Fresh Oregano Tea
We had a bit of an extension on summer temperatures this October, so I have had quite a bit of extra time in the garden. Weeding, transplanting, and soil prepping has been on my agenda, and as the temperatures have dropped a bit, the weather has still be good enough for tackling garden chores.
Wednesday, I took on the task of cleaning out the herb garden, and the primary task each and every year is removing most of my oregano. As a member of the mint family, oregano (Origanum vulgare) spreads ? and spreads ? and spreads until it chokes out other herbs in the bed. Every fall, I rip out about 80 percent of my oregano, and every spring, it comes back stronger, providing me another season of one of my favorite herbs.
I primarily grow oregano for three reasons: it′s an easy-to-grow perennial, the bees love it, and it′s a great ground cover. About mid-July through frost, my oregano plants are covered in gorgeous purple flowers that are a bee magnet. Oftentimes, I′ll walk past the herb garden while doing morning chores to find that dozens of pollinators are feasting on the flowers.
As a ground cover, oregano provides a tight network of stems that strongly interlace and keep weeds at bay. Oregano also spreads rapidly with minimal attention, so I have to give it plenty of space throughout the growing season and it thrives (Like, I′ve never had a bad oregano harvest, ever.). At about two feet or so, oregano adds medium height to the garden, and the delicate purple flowers are pretty enough to be in anyone′s flowerbed.
And because oregano is, of course, edible (I mean, pasta and pizza wouldn′t be the same without it), I use it in as many culinary ways as possible. And because my husband brought cold germs home, and I′m currently nursing a massive sinus headache, I plan to head out to the garden to pick some oregano to make a fresh tea to soothe my symptoms.
Because of the numerous health benefits of oregano, many of us have learned or are learning how to use it medicinally. While I am not advising you to ingest anything without consulting your doctor, oregano is readily available at health-food stores and pharmacies in many forms.
Oregano contains antibacterial, antiviral, and antifungal properties, which are beneficial for a variety of illnesses. But the most interesting of all the compounds found in oregano is carvacrol. While found in other herbs, such as bergamot and thyme, oregano offers the strongest concentration of carvacrol. It is the compound that is being studied for its effectiveness combating a variety of maladies, including the common cold virus, cancer, and E. coli.
And oregano is an antioxidant powerhouse. Containing vitamins A, C, E, and K, oregano offers a nutritional boost to our diet. According to juicing-for-health.com, oregano has one of the highest antioxidant activity ratings, or 175,925, for oxygen radical absorbance capacity, ORAC.
While you can find oregano oil and supplements at your local pharmacy, my preferred way to use oregano in this situation is a fresh tea. Not only is it free because I′ve been growing oregano for years, but I like knowing that I can walk a few steps to harvest my herbs and feel confident about sourcing my remedies from a clean, chemical-free garden. I pick a few stems, using about a tablespoon or two of torn/crushed leaves per cup of hot water. I allow the leaves to steep for about five minutes before removing them (or just drinking them, if I′m being lazy). Now, I′ll admit it isn′t the best-tasting herbal tea, but I would rather drink this than take something over-the-counter, if my symptoms are mild and do not require a doctor′s care. Sometimes a cup of something warm does just the trick to get me back out to the garden to finish my work.
So, if you′re like me and sounding a bit like Alan Rickman (′Turn to page 394.′), and would like to try an herbal remedy, I hope you consider making a cup of fresh oregano tea. Or, if Italian food is on the menu tonight, try adding a few fresh leaves of oregano instead of the dried stuff. Just keep in mind that fresh leaves are way, way stronger in flavor, and you won′t need as much in your recipe.