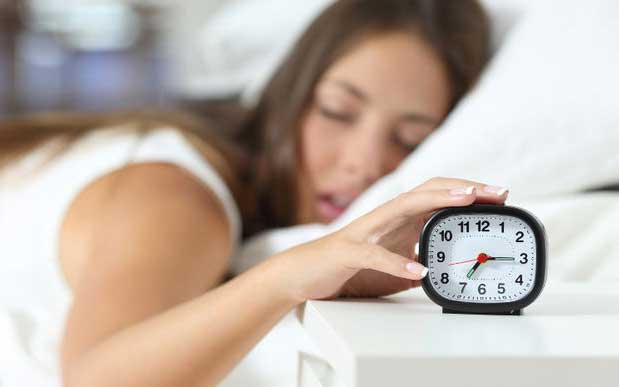 Daylight Savings Time: That miserable time of year when many mourn loss of one-hour sleep
If you don′t do mornings, you′re going to hate tomorrow morning even more. Prepare for glumness, grumpiness and a bunch of lazy, sloppy, cyberloafing colleagues. It′s going to be a nasty case of the Mondays!
Daylight Savings time just robbed us of an hour of precious, glorious sleep ? add to that that we′re already dragging our butts around, perpetually zonked and sleep deprived, and, to top it off, tomorrow is Monday, the most hated day of the week. A triple whammy!
More than 75% of us are working tired, reports an Accountemps survey, with one-third saying they?re short on sleep very often. ?Losing an hour of sleep will mean an already tired workforce will be working on even less shut-eye,? says Alex Saatjian, division director at Accountemps, an accounting staffing agency.
It?s not going to be pretty. Messing with a human?s circadian rhythm, and cruelly disrupting sleep patterns take their toll and require a few days to straighten out; in the meantime, don?t expect any smiles, much productivity or punctuality.
Typical Mondays are so depressing, according to research, that many of us don?t even crack a smile by 11:16 a.m. and we barely manage 3-1/2 hours of work throughout an entire Monday. Throw in Daylight Savings and cyberloafing booms on the Monday after we spring forward, according to 2012 research by Christopher M. Barnes, of the University of Washington. It prompts a whole lot of people to goof off online.
?Only a lark could love this Monday the 13th!? says Dr. Frank Farley. It?s for the birds. ?For night owls, it?s a day to do unwise things, like saying No to Daylight Savings, and that no boss is going to mess with your circadian rhythms.?
Daylight Savings is a nonsensical tradition we all love to hate. According to Farley, a psychologist at Temple University, Philadelphia, ?Monday the 13th, Daylight Savings, and really all workday Mondays, underscore that we have to accelerate the leisure economy.? Bring on artificial intelligence, robotics, and machines ? those things have no feelings about Mondays or early, middle or late starts to the workday, and have no known circadian rhythms... let′s start the relaxation revolution now.?
Relax? No chance! Wake up or you might not even make it to work. Researchers have found a spike in car accidents, heart attacks, workplace injuries, along with a dip in the stock market and workplace moral. Springing forward can trigger seasonal depressions ? a Danish study found an 11% increase in depression cases after the seasonal change.
Even your diet is going to suffer. Less sleep and you′re likely to overeat when you can?t control those increased cravings for junk food. There?s more: You won′t recover from workouts nearly as well, nor fight off infection because of your compromised immune system.
Working tired is bad for you and business too. The Accountemps survey mentions a litany of stupid mistakes by fatigued employees including a $20,000 miscalculation on a purchase order, and a missed decimal point causing an overpayment of $1 million.
One respondent blamed sleeplessness on an accident that paid everyone twice, while another really tired respondent admitted to deleting a project that took 1,000 hours to put together.
Exhaustion is a workplace epidemic, a modern malady that fosters a negative work environment. Take away an additional hour of shut eye, and ?it could lead to disengagement; a loss of motivation, morale or productivity; and even staff turnover,? adds Saatjian, of roberthalf.com/accountemps. ?Mistakes made by fatigued employees can not only cost time and money, but also impact the company′s reputation, and put new business opportunities at risk.?
And wave that promotion goodbye: Reduced concentration, reaction time, judgment and memory are not good for any career. Any errors as a result can have a negative impact on chances for career development and advancement.?
It?s just plain hard on your body and for business. Banish the blues, the dangers and the grumpy workmates, at least for tomorrow. Just stay home.