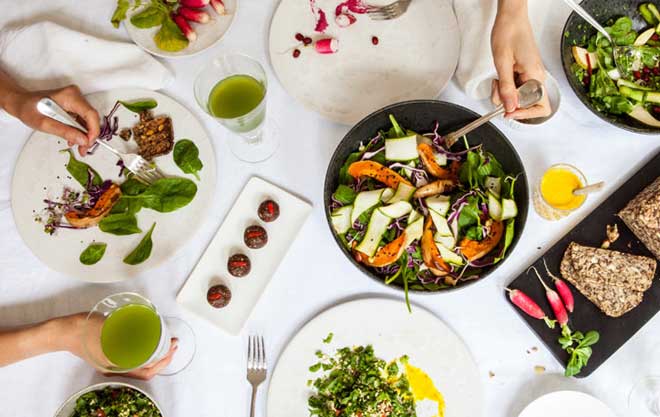 Healthy food that tastes good too
With a new wave of wholesome eating taking centre-stage, chefs are unleashing their creativity to create flavourful nutritious food
Protein House in Bandra, Mumbai, specifies that all dishes on the menu contain 20-25 grams of protein. The Nutrition Cafe, Ludhiana, mentions the total calorific value of each dish on the menu. Elma′s Bakery, Delhi, serves gluten-free desserts.
Clearly, an increasing number of restaurants in India are beginning to cater to the healthy-food requests of gourmands. Given that the community of discerning, health-conscious people is increasing, chefs today have to create healthy food, that′s not bland and insipid.
Chef Balpreet Singh Chadha, director, culinary operations, AnnaMaya, Andaz Delhi, elaborates, "With technological advancements, fresh ingredients have become more accessible and it has become easier for everyone to eat healthy. Today, restaurants and chefs are not shying away from sharing their procurement cycle and the source of their ingredients."
Executive Chef Sahil Arora, Renaissance Mumbai, adds, "With changing dietary habits, more chefs face guest requests for special diets. So while creating new menus, we have to include these requirements ? vegan, gluten-free and so on."
Basic ingredients and simple cooking techniques, used traditionally, are what chefs are turning to. Forgotten millets like jowar, bajra, ragi, kuttu, which are high in fibre and gluten-free, are back in restaurant kitchens. Ragi dosas and pancakes, jowar upma, multi-grain khichdi, buckwheat waffles, nachni porridge, are seen on hotel menus now.
Chefs are careful about the ingredients they select, as these naturally affect the quality and flavours of the food cooked. Chef Rollin Lasrado, area chef, Smoke House Deli, says, "Any food grown with care and consideration for the environment and the consumer, is bound to taste better than those laden with harmful chemicals. Make an orange cr?me brulee with organic Nagpur oranges and farm-fresh eggs, and you have a winner."
Organic, the key
Sante Spa Cuisine, in Pune, Hyderabad and now Mumbai, too was created with a view to serving healthy, but flavourful vegetarian food using fresh and organic ingredients. Chef Shailendra reiterates, "For us, healthy food does not mean bland food. We use a lot of local and lost grains like ragi, sorghum, and foxtail millets, which are healthy."
Renaissance Mumbai has introduced the BBQ (Barley, Beets and Quinoa Salad), that uses a combination of barley, quinoa, baby spinach and beets, muddled with a fresh lemon dressing.
Chef Amninder Sandhu of Arth, Mumbai and Pune, advocates the use of natural fuel to cook and works in a gas-free kitchen, as she believes that apart from enhancing the flavours, slow-cooked food preserves the nutrients too.
To serve healthy food, chefs feel, at times clever substitutes are a must without compromising on the flavour. Susmitha Subbaraju of Carrots, Bengaluru′s first vegan restaurant, says, "We use cashew, soy and coconut-based creams in our savoury sauces and desserts." She adds, "Our garlic cream pasta with a creamy sauce, made of cashew and soy, is loaded with vegetables. Our dips ? mayonnaise, barbecue sauce, hummus, herbed cheese spread ? are made fresh, in-house, in small batches. Not using preservatives, artificial flavour enhancers and chemicals, means the dips are healthy enough to be consumed in large quantities."
Increasingly, pastry chefs are using jaggery, dates and figs in order to augment the sweetness in desserts, instead of refined sugar. Whether it is a jowar cake with banana and dates or a ragi pancake drizzled with honey and jaggery, healthier alternatives are being served by chefs.
Pastry Chef Jumani, from The Clearing House, Mumbai uses a mixture of sorghum, rice, and tapioca flours for the passion fruit cheesecake base, giving it an unexpected nuttiness and texture.
Dairy too can be safely replaced, says Susmitha. "When we cut out dairy, we open ourselves up to a whole world of alternative milk and derivatives."
Seasonal ingredients
Chefs are trying not to choose a specific ingredient when planning a menu, but instead scout for what is fresh and new in that season and work around that.
Chef Rollin says, "Alphonso mango and organic rice pudding with Pollachi vanilla. We serve this during the mango season. The mangoes come from farmers known to us, the rice is a fragrant, organically-grown ambe mohar, the vanilla is from Pollachi."
Chef Balpreet explains, "We work with seasonal ingredients as that increases the scope of experimentation and innovation."
Chefs are also having to downsize servings, owing to the discerning health-conscious consumer. One Bite Wonders at ITC Hotels, are small tastings of ?caringly sourced, mindfully prepared′ snacks, in portions such as spoons, glasses, wraps.
Guests today prefer to indulge their guilty pleasures through bite-size desserts. "You don′t have to eat less to be healthy. You just have to eat right," Chef Shailendra sums up succinctly.