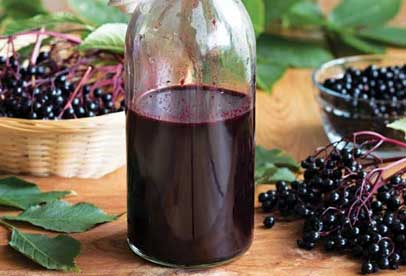 How to Make Elderberry Syrup
If you′ve walked into a health food store lately, you′ve no doubt seen a proliferation of syrups, tonics, and homeopathic medicines made with elderberries (Sambucus nigra). These products are meant to prevent and treat cold and flu symptoms and to boost your immune system, and often include honey as well.
It′s no surprise that herbalists everywhere are combining elderberry and honey. According to information on the Penn State Milton S. Hershey Medical Center website, "Some evidence suggests that the chemicals in elder flower and berries may help reduce swelling in mucous membranes, including the sinuses, and help relieve nasal congestion. Elder may have anti-inflammatory, antiviral, anti-influenza, and anticancer properties." Honey is likewise well-known for its medicinal qualities ? it can soothe a sore throat and calm a cough, and it′s thought to boost immunity and fight allergies.
While I′m a huge fan of herbal medicines, and I′ve found success with some of these elderberry supplements, I′ve had two complaints when I shopped for them in the store: cost and ingredients. A small jar of elderberry syrup can cost upward of $20, and many products contain alcohol, which doesn′t taste good to me and makes me not want to give the product to my children.
Rest assured, you can make a great elderberry syrup at home with just a few simple ingredients and a little bit of time. This is especially true if you grow your own elderberries or keep your own bees!
If you don′t have fresh elderberries on your property, or you can′t get them from a local farmer, look for a reputable source of dried elderberries, such as an herbalist or a natural foods store (a good online source is Mountain Rose Herbs). We grow our own black elderberries, the most common elderberry in North America. Many types of elderberries can be toxic when raw, so cook the berries thoroughly.
Here′s a simple elderberry syrup recipe that will keep for a couple of months in your refrigerator. You can dole it out in spoonfuls just like cough medicine, or you can stir it into your morning juice or tea (stick to a dosage of about 1 teaspoon for kids or 1 tablespoon for adults). Just to be safe, consult your doctor before taking elderberry syrup, because it may not be suitable for you.
We add cinnamon, ginger, and cloves to our syrup because these spices also seem to be beneficial for fighting colds. You can use powdered or ground spices, but I prefer dried whole spices because they′re generally fresher and also much easier to strain out. If you′re brave, you can experiment with adding a little cayenne pepper, but we don′t think our kids would be quite so cooperative if we did that.
Elderberry Syrup Recipe
For a fraction of the cost of store-bought, you can make this simple, homemade elderberry syrup. Yield: 1 pint.
Ingredients:
1 cup fresh or frozen black elderberries (or 3?4 cup dried)
2 cinnamon sticks
1 tablespoon fresh ginger, sliced
1 tablespoon dried whole cloves
3-1?2 cups water
1 cup local honey
Directions:
Place the elderberries, cinnamon sticks, sliced ginger, whole cloves, and water in a saucepan.
Bring the mixture to a boil, then reduce heat and simmer until the liquid is reduced by half, about 45 minutes.
Remove the pan from the heat and allow the syrup to cool.
Strain out the berries and spices using a fine-meshed sieve or colander and discard.
Add the honey to the remaining liquid. Pour the mixture into a pint-sized mason jar.
Store your homemade elderberry syrup in the refrigerator, where it should keep for about 2 months.