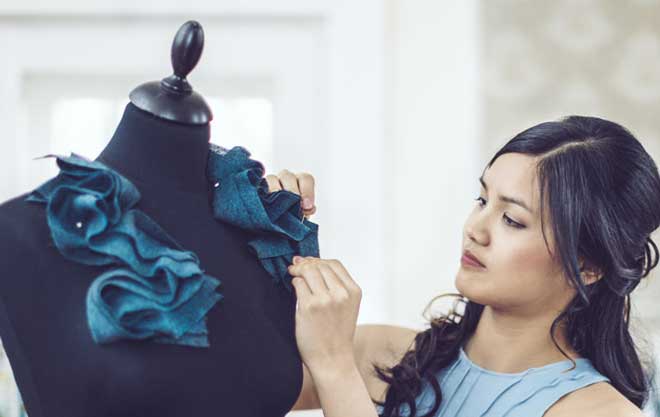 Looking towards India for design
Clarissa Bowers, Miss World America 2017, wears a Ponduru Khadi gown created by the fashion designing students of the city
Clarissa Bowers, Miss World America 2017, wears a Ponduru Khadi gown created by the fashion designing students of the city
The students of JD Institute of Fashion Technology recently had an interaction with Miss World America 2017, Clarissa Bowers. Clarissa who was in the country for a week said she was impressed by the culture of India and floored by the aesthetic design sense in Indian fashion industry. "The intricate designs and the amount of thought put behind eachcreation draws the world′s attention towards India. We appreciate the amount of effort that goes into planning and working on these designs. The intricacy and detailing speak volumes, " she said.
She was clad in a green gown of Ponduru Khadi silk designed by students of the institute, Aishwarya and Sujatha Ganguri. Aishwarya said that Ponduru Khadi was a conscious choice as they wanted to promote the fabric in international fashion industry. " Over the years, the number of weavers in Ponduru has been declining. With this dress we are hoping to capture the attention of designers across the globe and turn them to khadi. The khadi that we used was light-weight and represented the greenery of Visakhapatnam," Aishwarya said.
The 20-year-old resident of Florida who was crowned Miss World America in August last year said she spent time in Hyderabad too and had a marvellous time exploring the city and its cuisine, especially dosa and biryani!.
Clarissa, a certified oral maxillofacial surgery assistant, is currently studying Neuroscience at Vanderbilt University in Nashville and wants to make a career in the medical field. "Having a military background, I aspire to be a reconstructive surgeon for wounded soldiers. I wanted to visit a few hospitals in India but could not do so because of the tight schedule," she said.
Speaking about her journey as a model, she said, "I was a shy person and when people always told me to try modelling, I did not pay attention to them." But somewhere along the way she gave in and began a career in modelling. "And this is where it has led me."
Drape it right
Ponduru Khadi derives its name from the place Ponduru, a village in Srikakulam. The Khadi is made of special variety of hill cotton and red cotton which are grown in Vizianagaram and Srikakulam district. Mahatma Gandhi was so impressed by the finesse of this fabric that he preferred wearing it. The Khadi clothes from this region are exported to several countries like US, Denmark, Sweden and Japan