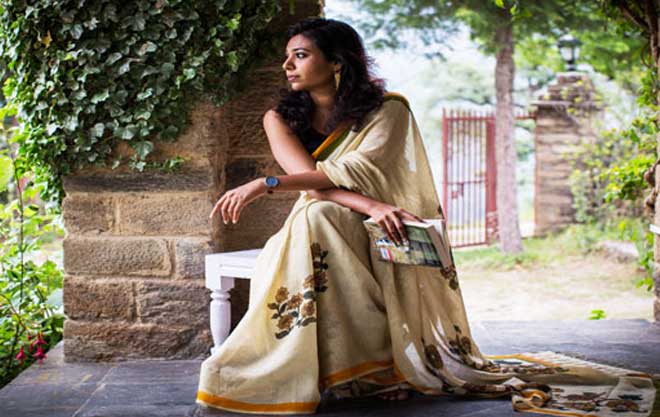 Sari saga from Bengal
Around 250 weavers of Nadia district have spent six months creating 5,000 saris for this exhibition
"The weavers have no electricity or concrete buildings back home in their villages in Bengal. They live in impoverished conditions, but they have worked hard for the past six months to create these handloom saris in silks and cottons," says Sarmistha Das Biswas, coordinator of Bengal Weavers Association.
The weavers are in the city to display some of their creations. Sarmistha has been organising this exhibition for the past 20 years, and for the upcoming 21st edition she brings with her five artisan weavers and over 5,000 handloom saris in 560 designs. Rang Mahal ? after which the exhibition is named ? is a conglomeration of weavers from Nadia district. All the saris at the exhibition are sourced from this region.
"Showcasing Bengal′s heritage weaving is the mission, but we also try to utilise the funds raised by the sales here for the welfare of weavers who are part of Rang Mahal," says Sarmistha. She goes on to say that though these weavers adhere to traditional weaving techniques and heritage motifs such as temples, flora and fauna, they also have been experimenting with innovative designs which are abstract and graphic. The design intervention is done by the Bengal Weavers′ Service Centre, which also guides and supervises the 250-weavers-strong Nadia weaving cluster.
" The five weavers who accompany me, have been coming to Chennai for the past six years, and they have dedicated customers who flock to their counters," she says.
The weavers will showcase a range of saris such as jalchuris with contrast borders, nakshis with tangail borders, striking colour combinations and patterns in jamdanis, baluchars with embossed pallu, and silks in hand-dyes and hand paintings.
"A bulk of our saris are in the most affordable range (between 800 and 2,000). In Chennai, our ahimsa silks (called vanya resham in Bengali) (?6,000 to ?10,000) are sought after, and every year we are sold out. We are also showcasing our ajrak block, shibori tie and dye and rogan art painted saris this year, apart from kalamkari sari from the region" she says. Dress materials are also available in cotton and silk.
A good percentage of the saris are dyed using natural substances like madder, turmeric, pomegranate, leaves and certain type of fruits and vegetables, which are supplied by the weavers centre. In order to soften the textiles for the natural dyeing process, the facrics are soaked in crushed banana. And their khadi range is starch free and hand spun. "Our weavers have been sending their children to NIFT and local colleges to study fashion designing. Some of these young weavers have started working with designers and some are working to launch their own brands. We are collectively clinging to the original craft of weaving of Bengal," says Sarmistha.