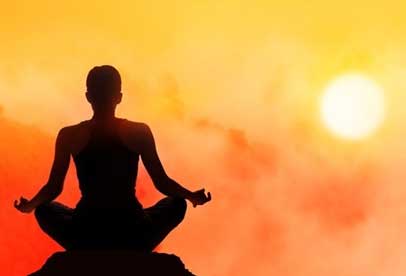 The amazing and healthy benefits of meditation!
meditation is thought to be one of the most relaxing and stress releaving activities! It has been a natural remedy for a lot of mental and physical diseases and or issues. In this article we′ll show one of the main and most important benefits of mediation and the miracles that it brings. The good thing about meditation is that it could be done anywhere and it′s a very simplistic act! All you have to do is to sit in a comfortable way and free your mind from all your problems by focusing on your breathing and nothing else! here are one of the major benefits:
Decreases stress levels and increases your overall mood:
Recent studies have proven that those who meditated fairely enough have shown increased cognitive performance and great mood. Students in universities have been tested over the course of a month and those who meditate have increased white matter around the anterior cingulate cortex. this part of the brain is responsible to control your mood. those who meditate have also shown low levels of depression, anxiety, anger and fatigue. so whenever you′re sad and in a bad mood you should always consider meditating as a way to brighten your day! Here are some other articles that could help you better your mood and or reduce stress levels:
Can decrease your risk of having any psychotic disorders:
regural meditators tend to turn of the past of the brain that focuses on one′s flaws, as well as mind wondering. Meditation allows for people to be more present-centered instead of self-centered according to scienctists! wich in this case can help with schizophrenia and other mental disorders! Numerous patients have shown signs of improuvement and in some cases recovery! although schizophrenia does have some genetic factors that can′t be solved by the simple process of meditating frequently, it should help in some way the patient!
Can reduce cholesterol and help prevent cardiovascular diseases:
Scientist have recently shown that meditating can help reduce cholesterol levels, lower blood pressure and reduce the risk of cardiovascular diseases. Numerous patients that indeed do suffer from these problems and they followed a program that involves regular meditation! the patients showed improvement in their disease and therefore has been proven to be effective! If you suffer from one of these disease your first instinct should be to follow your medication. One of the alternatives to help you should be meditation.
It can help you beat addictions:
in a recent experiment alcoholic patients have been tested. By the end of a 3 week meditation program. these patients are more likely to give up on their addiction. The reason behind this miracle is believed to be that meditation reduces their stress levels and help them with their cravings! There′s has been another study where they′ve showed that going 21 days without your addiction will help you get rid of it! A smart combination would be to meditate effectively for 21 days to get definetly rid of an addiction! I can′t wait to try it out for some unhealthy habits of mine (fast food)!
Makes your immune system stronger:
Studies have tested upon a groupe of people over the course of 8 weeks! Half run their life like usual the other half lived each day meditating! The results have shown that the half that did nothing haven′t shown any signs of improvement (obviously) . And the other half has shown great progress and much healthier habits! It can really benefit you if you struggle with compulsive sickness and could potentially make your immune system stronger!