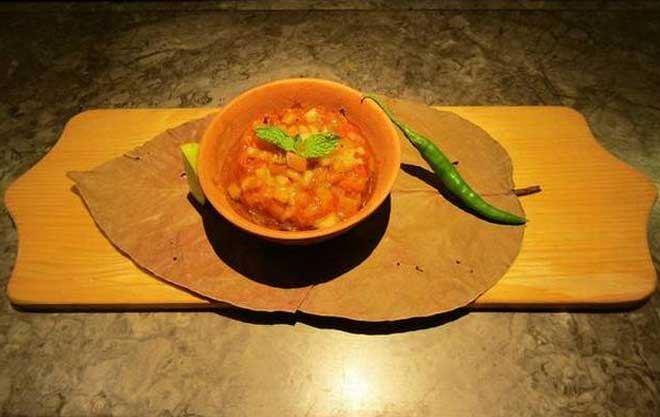 The tangy taste of Banaras
Tamater ki chaat is one of the specialities of the city known for its traditional snacks
I like these rich and colourful Hindustani phrases that we hear from time to time. Quite a few of these sayings have to do with the place that we live in or are fond of. That is why, when Chef Ashwani Singh quotes this little one-liner about his favourite city, I am not surprised. "Jo maza Benaras me, na Paris me na Faras me" ? the taste that you get in Banaras, you won?t find in Paris or Persia, he says.
So it is not surprising either that the most favourite street food of the chef de cuisine of Leela Ambience Convention Hotel in Delhi is the tamatar ? or tomato ? chaat of Varanasi or Banaras.
"I like it because it is one of a kind," Chef Ashwani says. It is flavourful, spicy and tangy, which is what a good chaat should be all about. "This is the only chaat in India which has no other version and it is 100% Banarasi. And the best part is that it is served hot," he says.
Banaras, of course, is the city of street food. Somehow, Varanasi doesn?t conjure up pictures of food the way its old name does. The chef, who has been organising Banarasi food festivals at his hotel and has been travelling to the Uttar Pradesh city to study and taste traditional recipes, points out that it is the city of kaleva or nashta ? morning fare.
Chhoti kachori and badi kachori ? small and big kachories ? are the much-loved snacks of the city, he points out. "The chhoti kachori is stuffed with spiced up potatoes and badi kachori is similar, but bigger. Both are eaten with ghugni, a dish of black horse gram tempered with hing, pounded ginger and green chillies and a homemade pounded masala mix," he says.
But, the chef holds, there is nothing quite like the tamatar ki chaat, for its varied flavours ? its tanginess, as well as its sweet touch. In the street corners, the chatwallah ladles sugar syrup over the chaat, which is then garnished with tiny namakparas (savoury puffs) and served in an earthenware bowl or a dried leaf dona.
I am reminded of another old adage: Jo khaye woh pachtaye, jo na khaye woh bhi pachtaye ? you will regret eating it, for you will always regret not eating it!
Recipe
Tamater ki chaat
Ingredients (To serve 4):
2 tbsp desi ghee
A pinch of hing
1tbsp each of pounded ginger and green chilli
1tbsp each of roasted cumin powder, roasted coriander powder and poppy seed paste
? tsp each of turmeric powder, pounded red chillies, black pepper powder and garam masala
1tsp each of red chilli powder, aamchur powder and black salt
5 chopped tomatoes
Puree of 3 tomatoes
? cup dried white peas (soaked, boiled and mashed)
2 potatoes boiled and mashed)
Salt to taste
1tbsp chopped coriander leaves
Method:
In an Iron griddle (tawa) or any other cooking vessels heat 2tbsp ghee. Add hing and then ginger and green chillies. Fry till light brown. Add all the powdered spices along with salt and fry. Now add the chopped tomatoes with the fresh tomato puree and cook till it is pulpy. Add poppy seed paste and fry for another 5 minutes. Add the mashed potatoes and mashed white peas with salt and gram masala to the tomato masala and cook till semi dry. Add chopped coriander. Place about 4tbsp of tomato mixture on each plate, add 1tsp of desi ghee and pour ? tbsp sugar. Squeeze the juice of one lemon over the chaat, garnish with 1tsp of fried namakpare and serve hot.