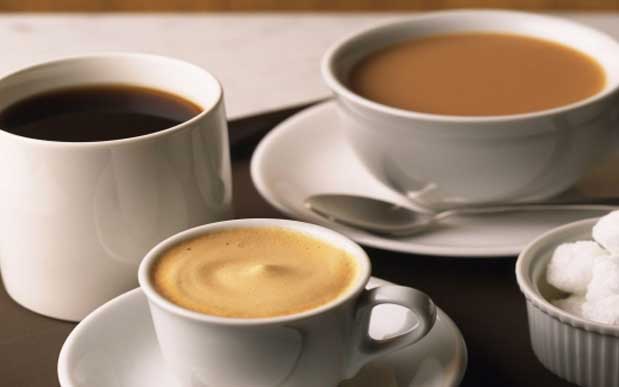 This is how many calories your tea and coffee habit is adding to your diet EVERY DAY
It is an accepted part of your everyday routine ? but your morning cuppa may have far more calories than you think.
An analysis of tea and coffee drinking habits based on a National Health and Nutrition Survey of more than 19,000 adults in the US found two-thirds of coffee drinkers and one-third of tea drinkers put sugar, cream and flavourings in their drinks ? which adds up to extra calories.
Those who drink black coffee consume about 69 fewer calories per day than those who add sweeteners, milk or cream to their drink.
Worryingly, sugar accounts for 60 per cent of those calories, with fat making up the rest.
And the news is just as bad for tea drinkers.
Tea drinkers tend to add fewer calorie-dense substances to their tea if they add anything at all, the analysis found.
But compared to drinking plain tea, add-ins such as milk and sugar can pile 43 calories onto your daily intake each day.
85 per cent of these are sugar, says Professor Ruopeng An from the University of Illinois.
He said: ?Many people prefer drinking coffee and tea with sugar, cream, half-and-half or honey.
?These add-in items are often dense in energy and fat but low in nutritional value.
?Milk products add a bit of calcium to the diet, but the amount ? 22 milligrams per day, on average ? is negligible.
The daily recommended calcium intake is 1,000 to 1,300 milligrams, depending on one′s age and pregnancy status.
?The daily intakes may seem small, but the extra calories every day can add up to extra pounds.
Our findings indicate that a lot of coffee and tea drinkers regularly use caloric add-ins to improve the flavor of their beverages, but possibly without fully realising or taking into consideration its caloric and nutritional implications.?
Something to think about next time you go into your local coffee chain.
Some special coffees, such as the festive treats released in December, contain more calories than a Tesco chicken and bacon mayonnaise sandwich and have a higher sugar content than a mars bar.
Topping the chart of the gut-busting winter drinks was Costa′s Mint Hot Chocolate, made with whole milk, which contained a staggering 452 calories.
Almost a quarter of a woman′s recommended daily intake.
The healthiest - or at least the less calorific - option was Starbucks' new Hot Fudge Chocolate, but it still contained 302 calories.
Professor An′s research is just another timely reminder to think about the added extra′s in your hot drinks.
His data suggest that more than 51 percent of American adults drink coffee and nearly 26 percent drink tea on any given day - that′s more than 160 million.