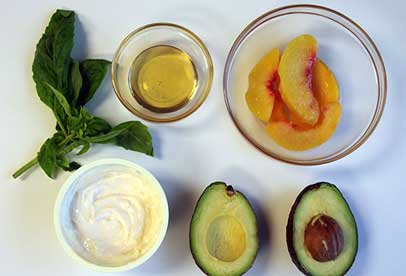 Why You Need to Start Combining Avocados and Peaches
Let′s be honest for a hot second: While there may be foods that you haven′t combined with avocado yet, that doesn′t mean there are combos you′re completely unwilling to try. Because, as long as avocado is involved, it′s likely going to taste good.
So when the idea of mixing peach and avocado was brought up, we were intrigued. It may not sound like a natural combination, but trust?these two healthy ingredients truly shine together. Plus, you′re getting some serious health benefits, like heart-healthy fat from the avocado and loads of vitamins, including K, C, and E, from the peach. The best way to enjoy? In porridge, AKA oatmeal. This recipe is hearty and luscious, meaning you′ll be satisfied right after ? and all the way through until lunch.
Avocado and Peach Porridge
Ingredients
1 ripe peach
1 cups gluten-free porridge oats
3 tbsp desiccated coconut
2 tbsp chia seeds
2 cups water
1/2 an avocado, finely sliced
Instructions
Chop the peach in half and remove the pit. Chop 3/4 of the flesh into cubes and place into a pan, saving the remaining 1/4 for the topping.
Add the gluten-free oats, desiccated coconut, chia seeds and half of the water to the pan and bring to a gentle simmer on a medium heat. The peach should start to break down. When the mixture starts to thicken, add the remaining water and continue to cook until the porridge is cooked.
While the porridge cooks, chop the avocado in half, remove the pit and peel. Finely chop one half into thin half moon shapes and set aside. Chop the remainder of the peach into thin slices.
Divide the porridge into two bowls and top with the remaining peach and avocado. Sprinkle over some crunchy toppings of your choice (almonds, goji berries, etc) and add a little coconut or almond milk if desired. The porridge should have been naturally sweetened by the peach but if you need a bit more of a sweet fix, a drizzle of agave or date syrup will do the trick.